Forum Highlights
Highlight presentations from each of the nine forum sites are showcased below. From solo to panel presentations, and from slam poetry to musical entertainment, the highlights vary from site to site. Click on a location on the map below to access local highlights or scroll down to choose your site.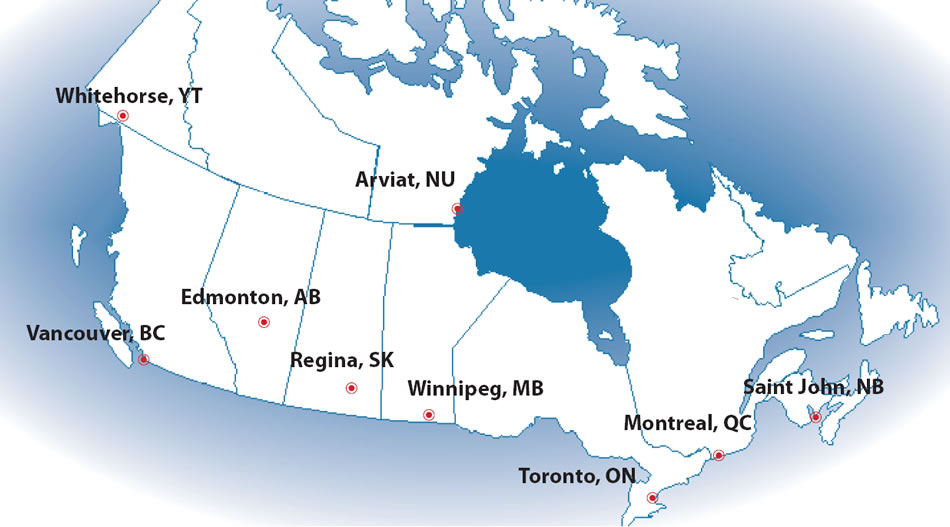 ---
Vancouver
Communities Working Together for Literacy
---
Edmonton
Literacy: Never Too Early, Never Too Late
Doug Horner

Minister, Alberta Advanced Education and Technology

Alberta

Webcast

Dave Hancock

Minister, Alberta Education

Alberta

Webcast
Alberta deputy ministers of education provide context and identify some of the challenges that need to be addressed.
Literacy learners in Alberta share their stories - their successes and challenges.
To learn more about literacy in Alberta, click here.
---
Whitehorse
Building Literacy Communities through technologies
---
Regina
Aboriginal Literacy
---
Winnipeg
Literacy Works! Building a Skilled and Resilient Workforce
---
Arviat
Literacy: The Path to Success
Somebody's Daughter (Inuktitut)

Somebody's Daughter is a cultural healing and learning program for women, survivors of residential schools, and those affected by the residential school experience. It takes place on the land and incorporates literacy development and healing exercises through writing workshops.

Webcast
---
Toronto
Literacy for Life!
Kathleen Wynne

Minister, Ministry of Education

Ontario

Webcast

John Milloy

Minister, Ministry of Training, Colleges and Universities

Ontario

Webcast

Results without Rancour or Ranking: Ontario's Improvement Strategy

Dr. Avis E. Glaze, Ontario's Education Commissioner and Senior Advisor to the Minister

The Province of Ontario has made the improvement of literacy and numeracy the centrepiece of its mandate. Clear achievement targets have been established for elementary and secondary schools. Human, financial and material supports have been augmented to support the initiatives. In this presentation, Dr. Glaze outlines the key strategies that have been used to bring about improvement in schools across Ontario. The focus has been on engaging teachers and principals and on building capacity at all levels of the system. Ontario is committed to achieving both excellence and equity.

Webcast
---
Montreal
Vision, Innovation, Participation
---
Saint John
Literacy: Passport to prosperity